What is Android OS?
By: Alodia Phan 😀 – jcyberinux.com
Android OS is an operating system for mobile devices (such as smart phones and tablet pc/computers). Android OS is developed by the Open Handset Alliance led by Google.
Android's kernel is a fork of the Linux Kernel, and the said architecture has further changes made by Google. Android relies on Linux version 2.6 for core system services for security, memory management, process management, network stack, and driver model. The kernel also acts as an abstraction layer between the hardware and to the software stack(s).
The Android OS used Android SDK that provides the tools and APIs necessary to begin development of applications for Android platform by using Java programming language. Android used a set of core libraries that offers most of the functionality, be available in the core libraries of the Java Programming Language. Every Android application runs in its own process, within the own instance of the Dalvik virtual machine. Dalvik has been written so that a device can invoke multiple Virtual Machines' more efficiently.
The Dalvik VM runs files in the Dalvik Executable (.dex) format, for optimization and minimal memory footprint. The VM is register-based, and runs classes compiled by a Java language compiler, and transformed into the .dex format by the included "dx" tool. The Dalvik VM relies on the Linux kernel, for functionality such as threading and low-level memory management. Android will ship with a set of core applications including an email client, SMS program, calendar, maps, browser, contacts, and others. All applications are written using the Java programming language. (To learn more click here)
Features
Application framework enabling reuse and replacement of components
Dalvik virtual machine optimized for mobile devices
Integrated browser based on the open source WebKit engine
Optimized graphics powered by a custom 2D graphics library; 3D graphics based on the OpenGL ES 1.0 specification (hardware acceleration optional)
SQLite for structured data storage
Media support for common audio, video, and still image formats (MPEG4, H.264, MP3, AAC, AMR, JPG, PNG, GIF)
GSM Telephony (hardware dependent)
Bluetooth, EDGE, 3G, and WiFi (hardware dependent)
Camera, GPS, compass, and accelerometer (hardware dependent)
Rich development environment including a device emulator, tools for debugging, memory and performance profiling, and a plugin for the Eclipse IDE
List of Android Releases :
Astro, Bender, 1.5 Cupcake, 1.6 Donut, 2.1 Éclair, 2.2 Froyo, 2.3.x Gingerbread, 3.x.x Honeycomb, 4.0 Ice Cream Sandwich, 4.1 Jelly Bean, 4.4 KitKat
Android 4.0.3 is an update to the Ice Cream Sandwich release that adds a handful of new features for users and developers.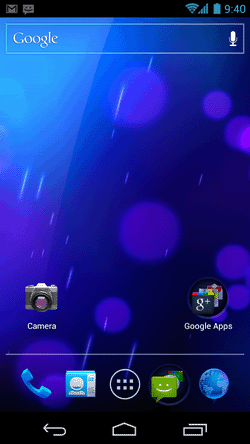 (Android 4.0 running on Samsung Galaxy Nexus)
Other people or beginners intends ask, If there's any easy tools or software that I can used, to create an application or software for Android OS or in order to create Android App.
The answer is Yes. There are tools or software you can used easily to program and deploy.
HyperNext Android Creator. It's an easy to use software creation system that allows beginners to start programming and building their own Android apps without any knowledge on Java or the Android SDK. Controls such as buttons can be rapidly placed and their English-like scripts edited with its easy to use Script Editor. (To learn more click here)
Basic4Android. Inspired on MS Visual Basic 6 / Visual Studio, simple and basic as they said. For beginners to experts or programmers that allows them to program quickly and deploy applications by using Android Runtime Components. (To learn more click here)
Where I can download Android Applications for free and paid?
Google Play Store (formerly known as Android Market). This is the place where you can find tons of Android Applications (apps) that you can used and play with, games, utility, tools, etc… (To learn more click here)
After I download Android Apps, can kind of file extension it used and where I should put it?
After you successfully download the Android Apps, the file extension is in *.apk, if you are using your smartphones or tablet pc then it will directly save on the sd card (MicroSD card installed on your device). Usually it was set on download folders, in your Android there is a File Manager you can used and able to browse in. Then from there, you can install it directly.
If you download it via your computer, you must transfer the file (*.apk) application to your mobile device or tablet pc, then save it at your sd card.
Related Links / Entries / Articles or To learn more :
HyperNext Android Creator Official Site
Basic4Android Official Site
Android Developer Official Site
Android Developer Official Site – Dev Guide
Android Market Official Site