NVIDIA SHIELD at full production and finally official ship on July 31st and also Pre-order is now online


We received a newsletter from NVIDIA News, that the NVIDIA SHIELD is now ready for full launch and shipping on July 31st across West Coast, Central US, East Coast and Canada.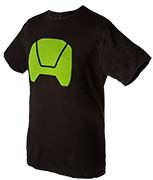 Great news isn't? A wonderful to experience the NVIDIA SHIELD and if you are ready to join the SHIELD movement and experience the ultimate gaming and entertainment portable, order now through a SHIELD Experience Center or online and you'll get a limited-edition SHIELD t-shirt, while supplies last.
Disclaimer: The NVIDIA SHIELD and Limited SHIELD t-shirt (images/photos) is used for demonstration purpose only.
What are included in the package?
NVIDIA SHIELD
– Silver Tag
– AC Adapter
– USB Cable
– 2 Full Games:
Expendable: Rearmed and Sonic 4 Episode II THD


Pre-order starts at $299.00 each, Limit of (4) four per person. Carrying case cost $39.99 each and Custom Tags cost $19.99 each (available on Carbon Fiber Tag and Glossy Black Tag).

For Pre-order and find the nearest SHIELD reseller or Experience Center click here.
See also NVIDIA SHIELD Features/Technical Specifications
If something in your mind to comment or suggest, please let us know. In our efforts to provide detailed information, there is possibility of inaccurate contents. If you see any mistake or incomplete in our information, please don't hesitate to tell us. We will fix it immediately as soon as possible.
Related Links / Articles / Entries / References / Sources:
NVIDIA SHIELD Gallery Images, Specifications, Overview and Price
NVIDIA SHIELD – Pre-order – Official Site
(Disclosure: NVIDIA SHIELD Info/Logo/Images/Pictures has a respective copyright. We used it for demonstration purpose only.)