Samsung Galaxy Ace Review
By: Revengsky Joseph D. Reyes (aka rjdreyes – jcyberinux.com)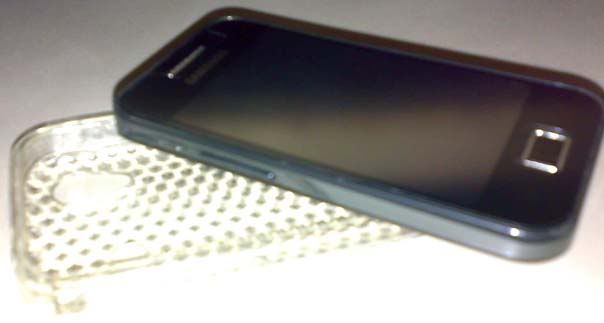 My personal review about Samsung Galaxy Ace, well to begin with let's take the outer part or the physical part of the Smartphone. It's quite handy just like a iPhone, at the front is the silver earpiece above it, then the 3.5 inches display touch screen and it has a Menu Touch Sensitive button, Home Button and Return Touch Sensitive Button at the bottom of it (Both Touch Sensitive buttons it will glow once you touch it).



Then at the side there is a hole to hook up a phone strap and the volume control,


and at the other side, SD micro card expansion slot, and the power option button so that you can turn off and on your phone, or in standby mode, or wake it up and a phone options you can select at.

At the back you can see, flash and the 5.0 mega pixels camera and the external speaker. But it will do great with an earphones jack-in, because it has good audio quality.


At the top, you can see the 3.5mm stereo jack headset, and the secure micro USB slot to keep guard the slot when on and off the charger which is pretty to good to keep your phone safe.



And at the bottom I think is the microphone piece with the little hole in it and the space for a fingernail to detach the cover in order to remove the battery and the SIM card.


This Samsung Galaxy Ace is like a small version of Samsung Galaxy S or SII, for me it's quite have handy applications like any android Smartphone has. It is quite good compared on Samsung Galaxy Fit, in terms of CPU speed, it has a 800 MHz ARM processor, and Andreno GPU, the default Android OS was the Android 2.2 Froyo, it can be upgradeable at 2.3 Gingerbread using Samsung Kies Software. It has a camera 5 Mega Pixels, 2592×1944 pixels, auto focus, LED flash but I think it will be nice to have a front camera for 3G video call, 280 MB RAM good for the applications and HD Games, and videos you sure want to play. A 181 Phone Internal Memory, that's well enough for your applications to be installed, and up to 32 GB microSD card expansion slot, well in case you get bored and play more MP3 music on your phone.

It has also Wi-Fi 802.11 b/g/n, Bluetooth, 3G – HSDPA, 7.2 Mbps. All I like is the screen, very elegant looking and they did a good job on it, Display Type TFT capacitive touch screen, 16M colors, 3.5 inches Gorilla Glass (for scratch proof and durability), Multi-touch(Like iPhone), Touch sensitive controls, Touch Wiz.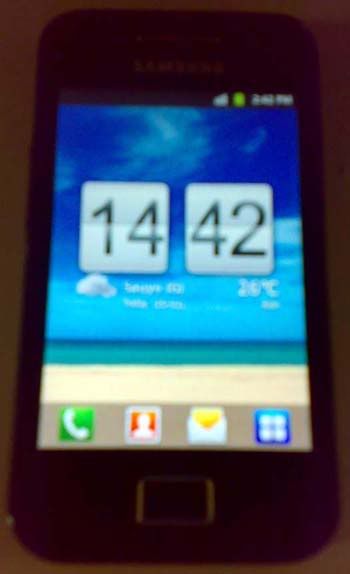 The touch screen responsiveness is 99%, with Touch Wiz featured makes everything easier to use and user-friendly. There are times that the phone responsiveness reduce due to the applications (in were used too much RAM) and it affects the touch screen response time. There is a application you can used to free the RAM that mishandled or not anymore used or to force it down. Task Manager also did a good job for clearing some RAM, if you feel that your phone slowing down, this application may help you. It can also uninstall applications that currently you do not used anymore plus end or force down the applications usage. History Eraser Pro can also help you for unnecessary logs, to clear all apps cache, browser history, gmail history, sms logs, call history, etc…
Screen Display, well is not AMOLED like the Galaxy S or SII featured, but it is part of the cost budget wise for the phone. Lacking of crisp or smoothness of texture and graphics well not that surprising but its tolerable for a valuable phone. Responsiveness of keypads and apps are well done and nothing to be concern at. If the resolutions and more smoothness you want, you can go forth to Galaxy S or SII or better yet Nexus. If you're looking for a budget phone with handy apps at hand, Samsung Galaxy Ace fits right.
Overall Application Responsiveness is 97%, all apps are working well, but some are not especially in terms in games. I play Field Runner HD, and the moment I want to exit the game, it takes too long to end or exit the application game.
Internet Browser Responsiveness is 98%, with Multi-Touch capabilities can zoom in and out on the pages, and fast response of the page you visit. On downloading files, it pretty much easy and save at you micro SD card. In general, it depends on your internet connection, try to connect to higher internet speed of Wifi Hotspots then you will clear to see the difference.
Gallery, Photos and Videos Responsiveness is 98%, pretty well done on launching your photo galleries and zoom in and out the pictures, play and record videos is the good stuff that I like. The audio and video quality is up to standard and all went well after the recording and playback. The audio recording is quite impressive. Playing your favourite Movie, much better if you used a earphone rather than the external speaker itself.
Battery Life, well expect the 4-6 days standby time, and on daily usage 2-4 days. But all depends on the usage of the phone, so keep that in mind. 😀
In general review, overall is 98%, satisfaction is up and good, and featuring all the basic Android Smartphone you can get. You got an ACE on your pocket when you have a Samsung Galaxy Ace. 😀
Related Links / Articles / Entries / References / Sources:
HOW TO UPDATE SAMSUNG GALAXY ACE (S5830) FIRMWARE OR ANDROID OS(FROYO to GINGERBREAD) by Jcyberinux
Samsung Galaxy Ace S5830 Specifications by Jcyberinux