Robert Norton Noyce – Mayor of Silicon Valley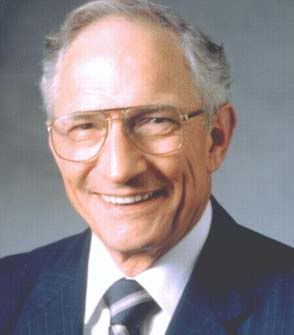 Robert Norton Noyce (December 12, 1927 – June 3, 1990), nicknamed "the Mayor of Silicon Valley", co-founded Fairchild Semiconductor in 1957 and Intel in 1968. He is also credited (along with Jack Kilby) with the invention of the integrated circuit or microchip (a complete electronic circuit inside a small silicon chip).  While Kilby's invention was six months earlier, neither man rejected the title of co-inventor. Noyce was also a mentor and father-figure to an entire generation of entrepreneurs.

(Fairchild Semiconductors Group – earlier years)
Before any multi-millionaires or billionaires company like. Google, Facebook, Microsoft, Apple, Intel, AMD, Sun Solaris, Cisco and Pixar, high-rise millionaires and billionaire venture capitalists, there was a man name Robert Noyce and seven of his colleagues formed a group and company named "Fairchild Semiconductor" in 1957. Robert Noyce, the son of a minister, studied at Grinnell College and the Massachusetts Institute of Technology (MIT).
In 1955, he joined a team of scientists headed by William Shockley, one of the inventors of the transistor. In 1957, Noyce and seven of his colleagues formed a group and company named "Fairchild Semiconductor" which they also called as "Traitorous Eight".


(Jack Kilby and Robert Noyce)

(Gordon Moore and Robert Noyce)
Over the next decade, Noyce managed the company, by teaching himself business skills as he went along. By 1967, Fairchild had 11,000 employees and $12 million in profits. Fairchild became a company of legend, the greatest amalgam of young engineering talent ever seen, and the seed firm of the modern Silicon Valley.
Noyce and Gordon E. Moore (a chemist and physicist) founded Intel in 1968 when they left Fairchild Semiconductor. Moore co-founded Intel Corporation in July 1968, with Robert (Bob) Noyce, serving as Executive Vice President until 1975 when Moore became the President.
Intel's headquarters building, the Robert Noyce Building, in Santa Clara, California is named in his honor, as is the Robert N. Noyce '49 Science Center, which houses the science division of Grinnell College.


He would eventually accumulate sixteen patents to his name. Noyce was awarded the IEEE Medal of Honor in 1978 "for his contributions to the silicon integrated circuit, a cornerstone of modern electronics."  In 1979, he was awarded the National Medal of Science. In 1990, the National Academy of Engineering awarded him its Draper Prize.
Mr. Noyce was inducted into the Junior Achievement U.S. Business Hall of Fame in 1989. The Noyce Foundation was founded in 1991 by his family. The foundation is dedicated to improving public education in mathematics and science in grades K-12. On the occasion of Robert Noyce's 84th Birthday, Google designed a specialized logo to honor the co-founder of Intel.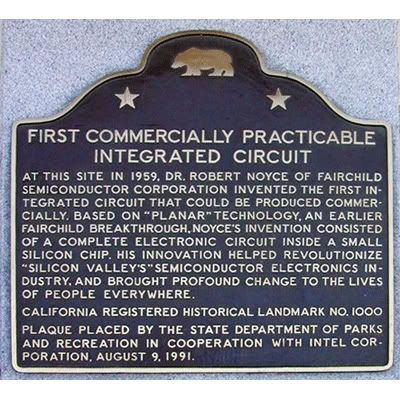 (Robert Noyce Historical Landmark)
Related Entries / Articles / References :
Wikipedia – Official Site – Robert Noyce
The Man Behind the Microchip by Leslie Berlin
IEEE Computer Society Awards Official Site
BBC History Official Site – Kilby and Noyce