TORQUE DROIDZ Drive Android GSM Tablet – Technical Specifications, Promo Philippine Price (Affordable Torque Smartphone and Tablet function for Pinoys)
Looking for affordable Tablet with GSM / SIM Slot / Wi-Fi function? No need to worry folks, because Torque has an amazing offer for Pinoy Gadget! Starting on May 31, Torque DROIDZ Drive with SIM Slot and WIFI function tablet, will cut-off its SRP(Php 4,999) to very affordable price Php 3,999. What an amazing offer isn't?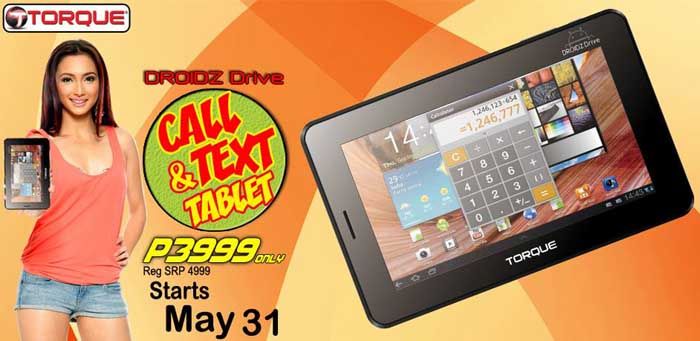 Price ranges: Php 3,999 (www.cmkcellphones.com) and same on other stores, starting on May 31 2013, with limited stocks only. (Before regular price: Php 4,999)
Here are the Specs of Torque DROIDZ Drive:
Operating System: ANDROID 4.0 (ICE CREAM SANDWICH)
CALL & TEXT FEATURES, SINGLE SIM Slot,
Processor: ALLWINNER 1.2GHZ
Screen Size: 7.0" WVGA 800×480 CAPACITIVE TOUCHSCREEN
MULTI-TOUCH ZOOM
GPU: ARM Mali 400 GPU
Internal memory: ROM: 4GB / RAM: 512MB,
Rear Camera: 2.0 MegaPixel
Front Camera: VGA
WLAN: Wi-Fi 802.11 b/g/n / WiFi Hotspot
3-AXIS GYRO / ACCELEROMETER
3.5MM STEREO HEADSET JACK IN
STANDARD Micro-USB, MICRO-SD UP TO 32GB
FULL HD VIDEO (1080P) Video Playback,
SLIM FORM FACTOR,
OVER 700,000 APPS FROM GOOGLE PLAY STORE
(Note: The specs not yet complete, we will update this soon :D)
Cheers! 😀
(Disclosure: Torque (Torque DROIDZ Drive) Logo/Images/Pictures has a respective copyright. I used it for demonstration purpose only.)
If something in your mind to comment or suggest, please let us know. In our efforts to provide detailed information, there is possibility of inaccurate contents. If you see any mistake or incomplete in our information, please don't hesitate to tell us. We will fix it immediately as soon as possible.
Related Links / Articles / Entries / References / Sources:
Torque – Tablet – Official Site