Starmobile Knight – Gallery Images and Technical Specifications, Price (Look alike iPhone 5 but with impressive specs)

An iPhone 5 resemblance in terms of look which came into an impressive specs: 1.2 GHz MediaTek quad core processor / 4.7-inch screen / 720p HD screen (720x1080p) (315 ppi) / Corning Gorilla Glass / 18 megapixel main camera / 8 megapixel front camera / 4GB of space (expandable to 64GB with optional micro-SD card) / 1GB RAM / WiFi, Bluetooth / 3G / HSPA+/ Dual Sim (1 Mini-SIM, 1 micro SIM) / Android 4.2 Jelly Bean.
Price ranges: Php 11,290 as of (July 2013) – Available Nationwide
Here are the Specs and Images of Starmobile Knight: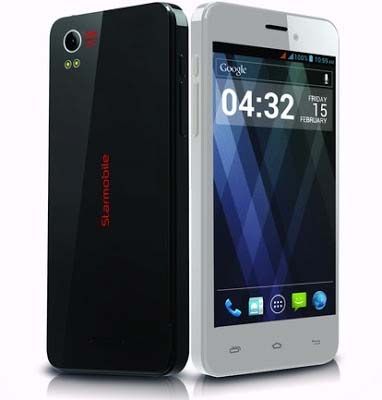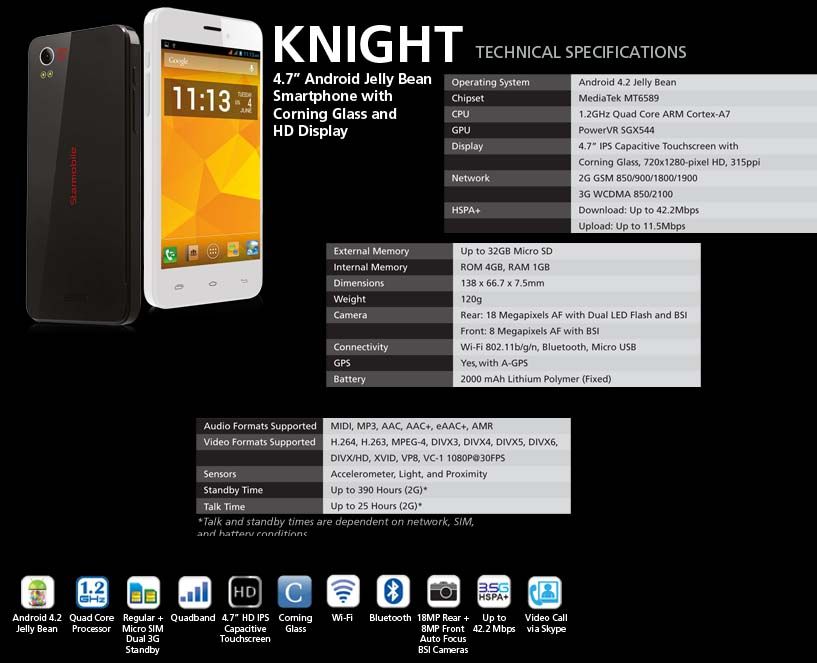 Good points for this Android Starmobile Knight Smartphone:
Android 4.2 Jelly Bean
Dual SIM (Mini-SIM and Micro-SIM slots)

Larger Display Screen with protection
Impressive Resolution
An iPhone 5 look alike
Good image quality on cameras
Downsides (in my opinion):
4GB ROM (internal memory is too low, in my opinion)
(Disclosure: Starmobile (Starmobile Knight) Logo/Images/Pictures has a respective copyright. We used it for demonstration purpose only.)
If something in your mind to comment or suggest, please let us know. In our efforts to provide detailed information, there is possibility of inaccurate contents. If you see any mistake or incomplete in our information, please don't hesitate to tell us. We will fix it immediately as soon as possible.
Related Links / Articles / Entries / References / Sources:
Starmobile – Knight – Official Site