Starmobile FLIRT – New Affordable Android Smartphone – Gallery Images and Technical Specifications, Review, Overview
by: Alodia Phan – jcyberinux.com
Hello Pinoys! Did you know that more and more Filipinos using Smartphones. For instance, you may see someone using Android Smartphones, iPhone, Nokia or Blackberry. You may wonder to have one, but you don't have enough budget to own your dream phone.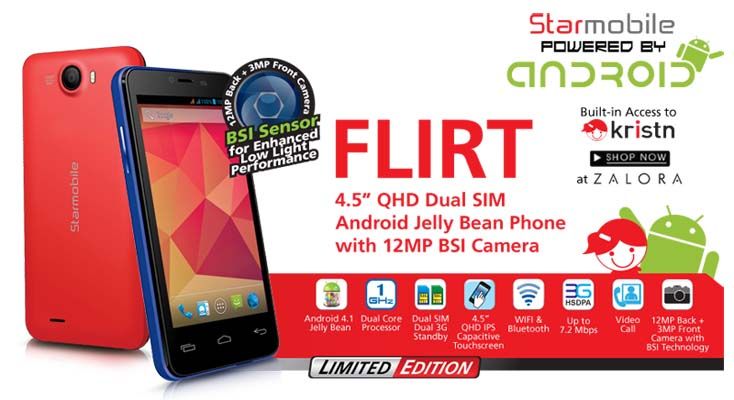 Good news, because Starmobile launch their new Android Smartphone to their line up featuring FLIRT.
It has Dual-SIM slots, MediaTek MTK6577 Chipset, 1GHz dual-core ARMv7 of Processor, 512MB of RAM, 4GB internal storage, with microSD card expansion slot up to 32GB, 4.5-inch qHD IPS display (960 x 540 resolution), 12-megapixel rear camera with BSI, dual-LED flash, 3-megapixel front camera with BSI.
Dimensions: 132 x 66.6 x 9.5mm / 1700mAh battery / GPS / Android Jelly Bean
Price ranges: Php 9,290 (April 2013)
As we know, popularity of people using 2 or 3 SIM cards to enjoy the network services and promos exponentially increase. Some cannot leave their old SIM cards and keep their contacts on that SIM. Using 2 Mobile Phones sometimes can be a hassle, but if you have 1 Mobile Phone that can use 2 SIM cards at a time, that's pretty good deal, DUAL-SIM slots has its purpose into that, if you want this feature, then you may like to have FLIRT.
A smartphone with Dual-core processor are very common within today's market (which is exactly do good on responsiveness, switching applications, etc…), rather than to stick with 1Ghz or low end processor, which can do less.


Since smartphones has to be good, within functionality, we are talking about the camera. In Flirt, you won't have any issues within its capability to do good photo shoots. The Rear camera has a 12 MP an above average imaging and video shots, then it has 3MP front camera which do good on video calling. Both cameras have a BSI technology that can perform better shots during low light conditions. The Screen Display has a potential to deliver clarity and color output with an IPS technology (but take no comparison with 720p and 1080p displays), and also the feature of the scratch and splash proof that reinforced into it. The Dragontrail glass technology says no worries on scratches and more durable when the phone accidentally fall, the less tendency it will crack.

As for the design, seems everything is fit (matte back plate, touch keys, glossy front display, volume buttons and power buttons) comes with simplicity but with hidden elegant on the shell. The removable battery has a 1,700 mah, it may enough for one or two days usage but anything can be done on the smartphones (movies, video streaming, music, playing games, etc…), so it varies on its usages. There were minimal lags (if you wonder to ask), in particularly on 3rd party applications (home launchers, widgets, apps) and the decrease of responsiveness still varies on the units load of applications, so be wary on it.
My opinion: As for the Starmobile FLIRT, they should come up with more internal storage device rather than 4GB, although you can store it up with the expandable microSD slot (32GB), and the RAM is also plays a big factor on the phone. If this thing doesn't matter to you, then this phone is all good on your budget.
Here's the STARMOBILE FLIRT Technical Specifications: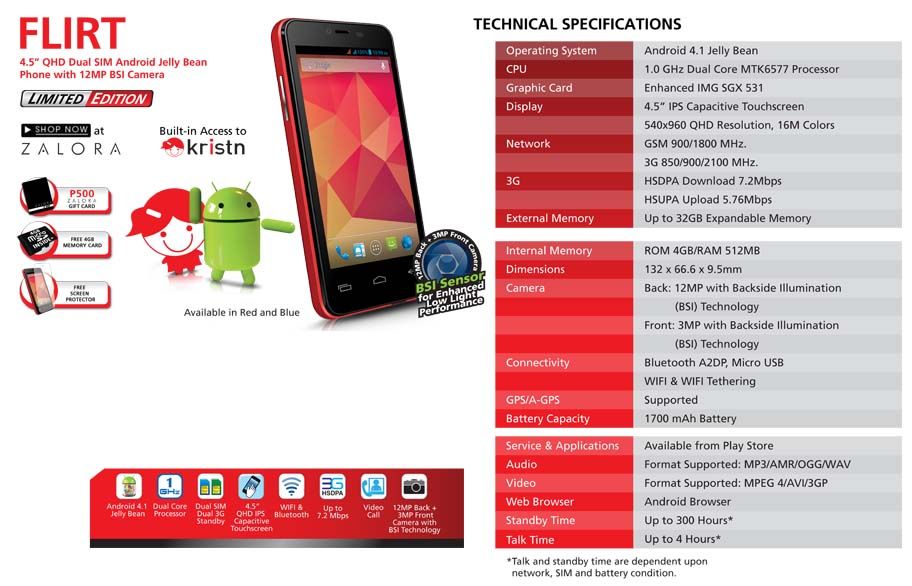 CLICK HERE TO ENLARGE
GALLERY IMAGES OF STARMOBILE FLIRT:

Cheers! 😀
(Note: Starmobile (Starmobile Flirt) Logo/Images/Pictures has a respective copyright. I used it for demonstration purpose only.)
If something in your mind to comment or suggest, please let us know. In our efforts to provide detailed information, there is possibility of inaccurate contents. If you see any mistake or incomplete in our information, please don't hesitate to tell us. We will fix it immediately as soon as possible.
Related Links / Articles / Entries / References / Sources:
Starmobile – Flirt – Official Site