Prime95, The Best CPU Stability Test Software
by: Revengsky Joseph D. Reyes (a.k.a. rjdreyes)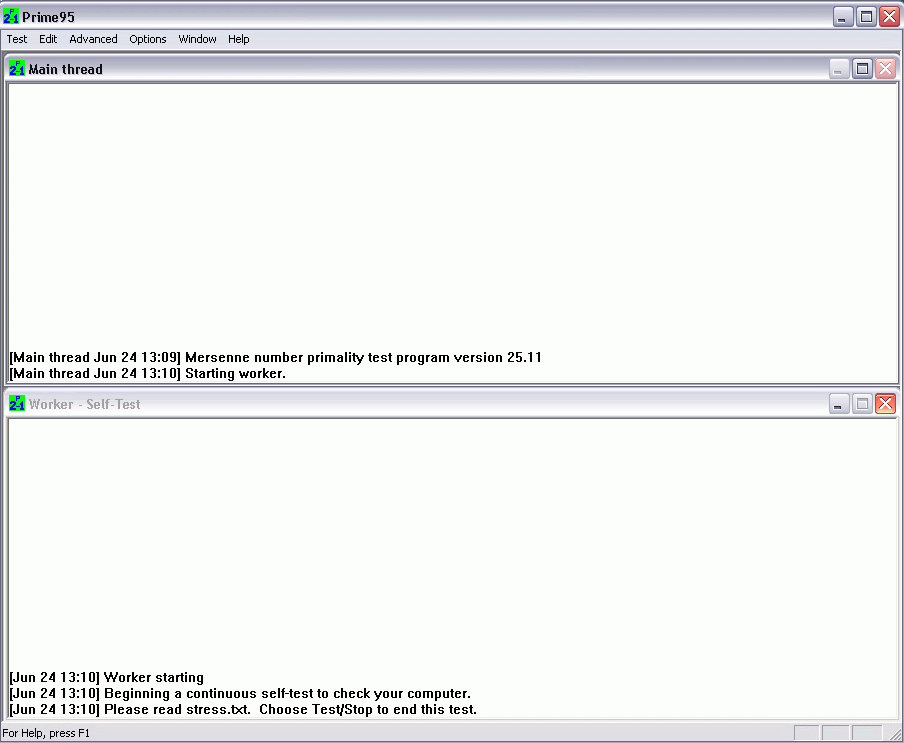 A total killer or I would rather say, a total cpu stability test software, which allows you to maximize your CPU and RAM stress testing. You can choose on how you will stress your CPU or RAM, you can also choose both of them be stress at the same time.

"Why CPU Stability Test Software?", Good question. Of course, there are other people wants to test their ultimate CPU setup. Specially people who are expert or do extreme overclocking their CPU. The Prime95 can full test and stress all CPU cores by multi-threading and auto-manage worker threads.
I do this on my Dell Latitude C600/C500, to test my CPU temperature statistics, and able to know my laptop cpu fan is working or not.
Basic Stress Testing Guide (You must have MB/CPU Temperature Monitor)
1. Download Prime95 and Install. (I think you dont need to install, because when I got mine, I just extract it on zip file and run Prime95.)Skip if doesn't need to install. Then run Prime95.
2. At Prime95, Choose to Options, Click Torture Test.


(Note : On doing this, you must have mb/cpu temperature monitor, to monitor your current cpu temperature or ram. Then you can Stop the Test after you test it enough, in other instances, if you didn't stop it, it will automatically stop the test, after it reaches certain test range)
3. A Dialog Prompt will appear, At Run a Torture Test, you can choose on how you would like to undergo stress test your CPU or RAM. But I choose both, tests everything. I choose Blend. Then click Ok.


4. To Stop the Test, Choose Test, Click Stop.

Related References:
Exterme Overclocking.com
Download Prime95 at Download.Cnet.com