Nokia X1-01 Philippine New Affordable Cellphone by Nokia
by: Revengsky Joseph D. Reyes (a.k.a rjdreyes)
At our lunch break, me and my officemate having a discussion, about the cheapest and affordable phone with a quality name today on the philippine market. He mention to me the Nokia X1-01 and I curious about the product. As I walk on the mall, I spotted the Nokia X1-01 on the store, and by curious, I talk to the salesman.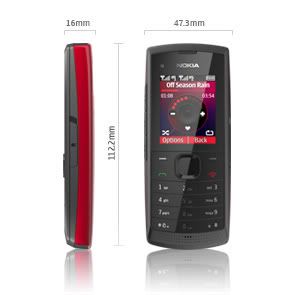 As any nokia phone, a lightweight, and very handy phone it is. It has a dual-sim that you can used two different sim at the same time. Not only that, it has many cool features, like the flashlight, which is a very handy tool, an organizer, a stereo FM radio which you can listen to your favorite FM radio station. It has a MP3 Player (a plus additional feature) and a microSD card slot that can support up to 16 GB, which you can listen to your favorite MP3 songs all day long, anywhere you go!
I think this is the ultimate affordable phone by nokia, I'm not really surprise because other phone makers like MyPhone and Cherry Mobile are already make this kind of handy cellphone.
But I'm glad that the Nokia able to come up with such good treat, because now it has an introductory price of 1,990 Philippine Pesos in the Philippine market.
Technical Specificaions:
Dimensions
Size: 112.2 x 47.3 x 16 mm
Weight (with battery): 91.05 g
Volume: 73.2 cc
Keys and input methods

Numeric keypad
Navi key
Call key and end key/power key
Three dedicated music keys

Colors

Available colors:

Red
Ocean Blue
Orange
Dark Grey
White
Standard Sales Package

Nokia X1-01
Nokia Battery BL-5J
Nokia Charger AC-3
Nokia Stereo Headset WH-102
User guide
Music features

MP3 music player supporting standard MP3 formats from 32 kbps up
Shuffle feature to mix up songs
Edit your favorite playlist
Repeat tracks
Loudspeaker built in
Support for up to 16 GB of memory on a microSD card
Three dedicated music keys
Radio

Stereo FM radio (87.5-108 MHz/76-90 MHz)
Messaging

Large SMS storage – up to 250 entries
Easy erase of multiple messages
Support for message counter
Support for picture messaging
Dual SIM support for phone sharing
Call management

Contacts: space for up to 500 entries in multiple phone books
Speed dialling
Logs of dialled, received and missed calls
Integrated handsfree speaker
Call tracker
Dual SIM support for phone sharing
Display and user interface

Screen size: 1.8″
Resolution: 128 x 160 TFT display
65,000 colors
Personalization

20 colorful themes
MP3 music ringtones and 32-polyphonic ringtones built in
Customisable profiles
Customisable menu, shortcuts, icons and screensavers
Memorize up to 5 SIM card name and icon customization
Power Management
BL-5J 1320 mAh Li-Ion battery
Talk time (maximum):
Standby time (maximum):

GSM with dual SIM: 1032 h

Music playback time (maximum): 36 h
Connectivity

2 mm charging connector
3.5 mm AV connector
Memory

MicroSD memory card slot, hot swappable, up to 16 GB (sold separately)

Operating frequency

EGSM 900/1800
Dual SIM with dual standby
Related References:
Nokia X1-01 Gallery Pictures by Jcyberinux
Nokia X1-01 Official Site