Multiply.com a social networking site, then a marketplace goes to shutdown?
Does really Multiply.com goes to shutdown? Ask one of my colleagues. As I heard the news from friend, I immediately surf on the web for more accurate detail.
Here's I got so far, In their website (Multiply.com) stating that they are going to close the Multiply (Martketplace) as of May 6,2013.
Screenshot of Multiply's Announcement to the public of its May 6, 2013 closure: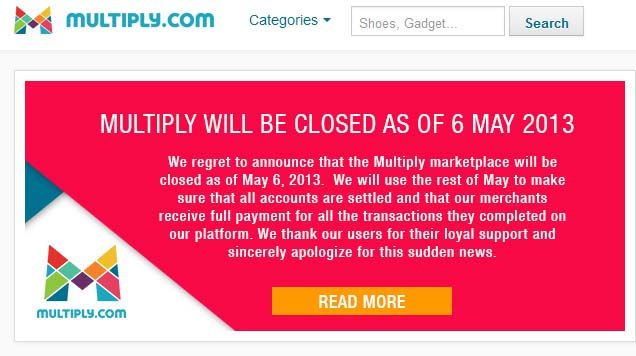 Statement from Multiply.com Announcement (Multiply is closing May 6):
We regret to announce that Multiply will be closing on May 6, 2013 and ceasing all business operations by May 31, 2013.
Multiply will maintain normal site operations through May 6. We will use the rest of May to make sure the all accounts are settled and that merchants receive full payment for all the transactions they completed on our platform. This will also provide our merchants with time to find and migrate to alternative ecommerce platforms, settle all payments on items bought and delivered, and to minimize disruption to their businesses.
Multiply will ensure that you receive all funds you earned on the platform no later than May 31, 2013. We will close the actual marketplace sooner, on May 6, 2013, to ensure that all orders have sufficient time to complete and be delivered to your customers before the end of the month.
Merchants who have premium subscriptions should contact our customer support and we will ensure that they receive a full refund for the un-used time on your subscription. – From Multiply.com Announcement

Multiply.com formerly is a social networking service website but in early 2012, announce that the website will discontinue the social networking service then switching it to ecommerce website.
(Disclosure: Multiply.com – Website/Links/Info/Logo/Images/Pictures stated above has a respective copyright. I used it for demonstration purpose only.)
If something in your mind to comment or suggest, please let us know. In our efforts to provide detailed information, there is possibility of inaccurate contents. If you see any mistake or incomplete in our information, please don't hesitate to tell us. We will fix it immediately as soon as possible.
Related Links / Articles / Entries / References / Sources:
Multiply.com Marketplace Official Site