Microsoft Messenger and Skype coming together – an update to Messenger Retirement and Skype as an official upgrade
by: Alodia Phan – jcyberinux.com
I've been using MSN Messenger and Skype for my relatives and friends for many years now.  Today, when I open my MSN Hotmail account, an email catches my attention regarding on Messenger account. Below is an email of Messenger account regarding about their future update. (I attached here in my post for the sake of the readers)
Important info about your Messenger account
Hello,
We are retiring the existing Messenger service globally (except for mainland China where Messenger will continue to be available) and bringing the great features of Messenger and Skype together. Update to Skype and sign in using a Microsoft Account (same as your Messenger ID) and all your Messenger contacts will be at your fingertips. You'll be able to instant message and video chat with them just like before, and also discover new ways of staying in touch with Skype on your mobile and tablet.
Yours sincerely,
The Messenger Team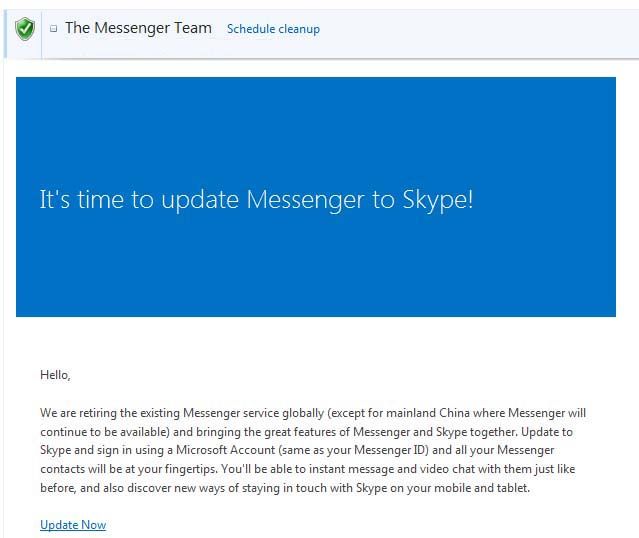 *The image capture via MSN Hotmail Account regarding the Messenger update
So I make my own research regarding this matter, well truthfully saying, that the Messenger will come to an end. 🙁 But fear not, because Microsoft gave us a word that we can use Skype to sign in our Messenger ID just like we used to on Messenger.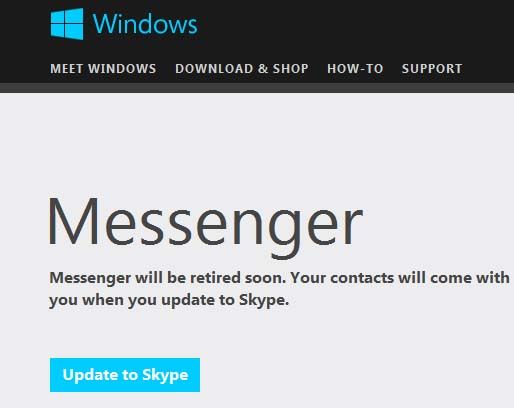 *The Image capture via Messenger Official Site regarding Messenger retirement

OK let's see what's new on Skype when we use our Messenger ID account, here is the email message regarding the update/upgrade (Additional Features and FAQ):

*The Image capture via Skype Official Site regarding Messenger and Skype merge
Here are just a few of the great features that you can use with Skype:
Instant message, video call and call phones from your PC, Mac, Windows Phone, iPhone, iPad, Android mobile, Kindle Fire and other devices
Sharing your screen with friends and family
Video call and instant message with your Facebook friends
Group video call with up to ten friends at once*
And that's just the start – there's so much more to explore on Skype
So, what's happening between now and the retirement?
Messenger will continue to work as you know it today. If you are signed in with Messenger on your desktop** you will see a banner notification to upgrade. When you click on the banner, an installer window will open with the request to upgrade. This will take you through our installer flow to install Skype and automatically uninstall Messenger.
So, what's happening after the retirement?
Messenger users on desktops** will not be able to sign in and will only be able to upgrade to Skype. If you attempt to sign in, a notification will appear, and if you continue, you will be taken through our installer flow to install Skype and automatically uninstall Messenger at the same time.
Can I update to Skype on my mobile?
Yes! Skype is available on iPhone, Android and soon on Windows Phone 8. We encourage you to download the latest Skype app on your mobile and then uninstall Messenger. You will be able to sign in to Skype on your iPhone, Android and Windows Phone 8 mobile apps with your Microsoft Account over the next few weeks. If you use another phone with Messenger on it, it will continue to work for a while.
Additional FAQ: What happens when I merge my Skype and Microsoft accounts? (click here to know more) / What happens to my contacts when I merge my Skype and Microsoft accounts? (click here to know more) – this can be all answer just click the links.
*Disclosure: An important note, we are just sharing this information to the public, provided by our source (via MSN Hotmail, Skype, and Messenger) Logos / Images has respective copyrights.
If something in your mind to comment or suggest, please let us know. In our efforts to provide detailed information, there is possibility of inaccurate contents. If you see any mistake or incomplete in our information, please don't hesitate to tell us. We will fix it immediately as soon as possible.
Related Links / Articles / Entries / References / Sources:
Microsoft – MSN – Windows – Messenger – Official Site
Microsoft Messenger and Skype are coming together update – Official Site
What happens when I merge my Skype and Microsoft accounts? – Skype – Official Site
What happens to my contacts when I merge my Skype and Microsoft accounts? – Skype – Official Site