Karl Roy, A lead vocalist of the band Kapatid is fronted by the iconic Karl Roy (Advent Call and P.O.T.), he is also brother of Kevin Roy of Razorback, passed away early morning Tuesday, March 13, at 1:01 a.m. He was 44. Karl's sister, Kathryn, announced her brother's death on her Facebook page.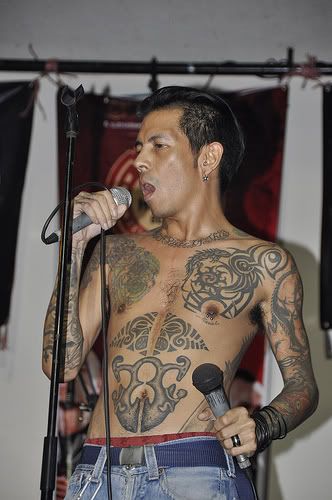 During early '90's, he became recognized lead vocalist of Advent Call. Then after the disbanded, he formed P.O.T., later followed by the new generation band Kapatid. Compose of new young and creative musicians. The members left the band one at a time until Karl was the only original member left.
It was learned Roy stayed in the hospital after doctors found out there was fluid in his lungs. He also suffered a stroke in 2007. In 2008, a benefit concert was mounted for Roy who had suffered from multiple strokes.
"Pareng Karl Roy, safe trip brader and we will miss you by your diehard fans! Iaalay namin ang mga kanta para sayo, mamayang gabi sa Autonomy Bar (Maria Clara St., Barangka Drive, Mandaluyong City). from: JeffPlane Band"
Related Entries / Articles / Links / References:
Rock icon Karl Roy passes away – Interaksyon.com – Official Site
Pinoy rock icon Karl Roy dies – ABS-CBNnews.com – Official Site