How to use Navicat Lite for MySQL Connection via Localhost
by: Revengsky Joseph D. Reyes (a.k.a.rjdreyes)
This is a Navicat Lite Version 9.1.11. Very easy and convenient…
These are the steps:

1. Launch Navicat-Lite. Go to File > New Connection > click MYSQL…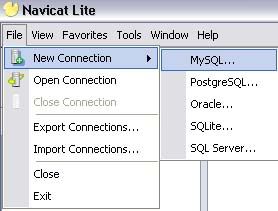 2. Put your Connection Name (e.g. my-local-server), Host Name/IP Address (localhost or 127.0.0.1) this is important because this is were your sql query and connection to be.


Port (3306) if you didn't change it. User Name (root) if you didn't change it or add any new user. Password (no password if you didn't set it, if you do, then put the corresponding password).
Then test your connection. Click Test Connection. It will show Connection Successful. Click OK.
3. Double click at my-local-server connection (for example), you should see the databases below.


4. You may double click your database, to show your tables and start to manage it.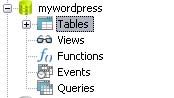 Enjoy! 🙂 I hope this helps you out. 🙂 Cheers!
Managed your Databases and Tables in friendly manner. Fast and easy. 🙂
100% FREE, Navicat Lite for your daily personal database administration tool.
Related References:
Download Navicat Lite at Official Site
Navicat Product Comparison at Official Site
Navicat Lite – Simply the best database administration tool by Jcyberinux
How to Install Navicat Lite on Windows XP, 7, Vista by Jcyberinux