How to Change Order of Menu Bar on WordPress
by: Revengsky Joseph D. Reyes (a.k.a. rjdreyes)
Step 1: Go to Pages > Expand it (by click arrow expand button) > Then click Pages.


Step 2: Hover or move your mouse to Title > Page 1 (for example or what page you have), then you'll see the options; Edit | Quick Edit | Trash | View, then click Quick Edit.


Step 3: Then you'll see the other attributes, go to Order next to it, is the textbox, from there you can change the order or number you want.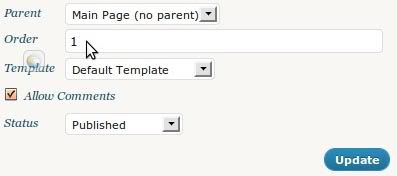 For example, I have Page 1, and its order number is 1, I can change it to 2.
Then repeat this process on Page 2. Since I have Page 2, and its order number is 2, so I just to change it to 1.
This will appear on your Menu bar on your website, (home) (page2) (page1) and so on.
To demonstrate it, here's the example output.
(Before)


(After)


Hopefully this instructions helps you out. :).  More info's soon! 😀