Cherry Mobile Superion TV 2.0 – Gallery Images and Technical Specifications, Philippine Price

Not long ago Cherry Mobile release a on-the-go Android Tablet with Mobile TV functionality, the Superion TV. Yet again, Cherry Mobile release a new version of SuperionTV, which upgrades most of the specs, the Superion TV 2.0!
What news? Cherry Mobile Superion TV 2.0 is the successor of the older version, which has notable improvements in some areas, from the processor (Former version has only Single core, while the new one has Dual-core), camera (Former version has only VGA Rear camera, the new one has two cameras – 2 MP Rear camera and VGA front camera), and the price (The former version has a price of PHP 5999, while the new version, has an amazing price of PHP4999, it's a 1K difference on the price).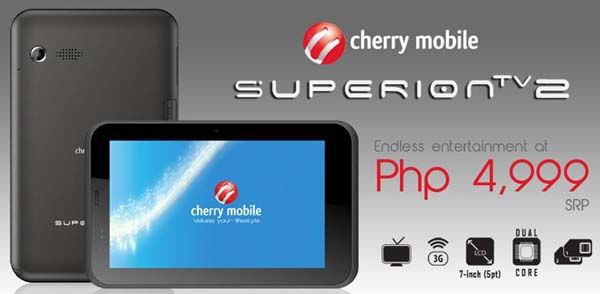 The only drawback for the new version is the battery. The Superion TV 2.0 has a Non-removable Li-Ion 3,200mAh battery, whereas the former version has a Non-Removable Li-Ion 3,200mAh battery. This could be a bottleneck along the way, sporting new specs while lowering the battery life… That's maybe the reason why the price is low compared on the previous version.
Some specs you might interested like: Mobile TV and FM Radio, Wi-Fi b/g/n, GPS, Dual-SIM, Android 4.1 Jelly Bean, 512 MB RAM, 4GB Internal Storage, this would be a budget Tablet, it might be good for you or maybe enough to handle your tantrum to have a budgeted tablet.
Price: Php 4,999.00 as of (July 2013)
Summary Specs and Images of Cherry Mobile Superion TV 2.0:
NETWORK: DUAL SIM / GSM calls, text, and mobile data
DISPLAY: 7-inch WVGA (800×480) capacitive display with 5-point multi-touch feature
OS: Android 4.1 (Jelly Bean)
CAMERA: 2MP Rear camera / VGA front camera
CPU: 1GHz Dual Core Processor
RAM: 512MB RAM

USER STORAGE: 4GB of internal storage
MICROSD SLOT: Expandable microSD slot up to 32GB
CONNECTOR: microUSB v2.0 & 3.5mm audio jack in headset
WIRELESS NETWORK: Wi-Fi 802.11 b/g/n, 3G, GPS and Bluetooth
OTHER FEATURES:
Mobile TV MP3 & Video player
FM Radio
BATTERY: Non-Removable Li-Ion 3,000mAh battery
(Disclosure: Cherry Mobile (Cherry Mobile Superion TV 2.0) Logo/Images/Pictures has a respective copyright. We used it for demonstration purpose only.)
If something in your mind to comment or suggest, please let us know. In our efforts to provide detailed information, there is possibility of inaccurate contents. If you see any mistake or incomplete in our information, please don't hesitate to tell us. We will fix it immediately as soon as possible.
Related Links / Articles / Entries / References / Sources:
Cherry Mobile Superion TV – Official Site
Cherry Mobile Superion TV Images, Specifications and Price