ASUS Notebook NX90SN – A Splendid Multimedia Centre
by: Revengsky Joseph D. Reyes (a.k.a. rjdreyes)
The 18.4 inch Notebook, a Full-HD of ASUS Notebook Multimedia Entertainment NX90SN has a exclusive SonicMaster technology, stunning visuals, sensational speed, a revolution in style and powerful package that can ever be the ultimate multimedia package.


Atelier craftsmanship, premium luxury and unprecedented sonic refinement come together spectacularly in the new ASUS NX90, a multimedia notebook for those with discerning tastes in audio and style.

SonicMaster technology, co-developed with Bang & Olufsen ICEpower®, delivers the highest audio fidelity


A New Standard in Notebook Audio
The NX90 features ASUS' exclusive SonicMaster technology, a suite of hardware and software innovations developed in collaboration with Bang & Olufsen ICEpower®. Equipped with the best codec and highest-powered notebook amplifier available today, as well as oversized resonance chambers that are ten times larger than those found on regular notebooks, the NX90 effortlessly delivers a wider sonic range, louder volume and deeper bass — bringing audio to breathtaking life.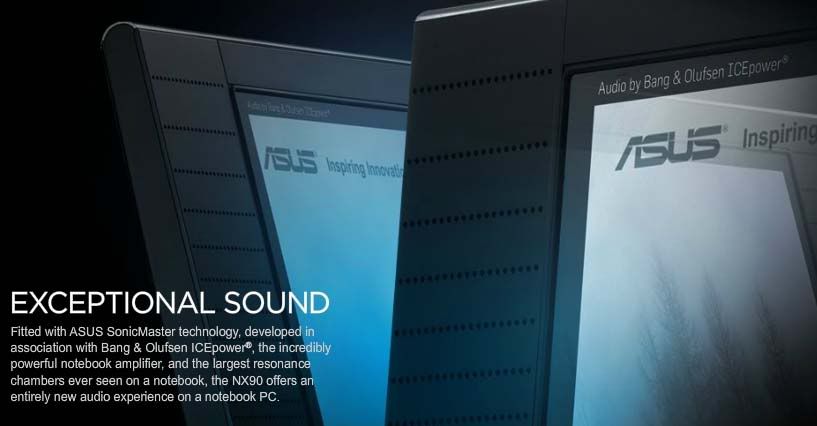 Designed by multiple award-winning designer David Lewis, whose main client is Bang & Olufsen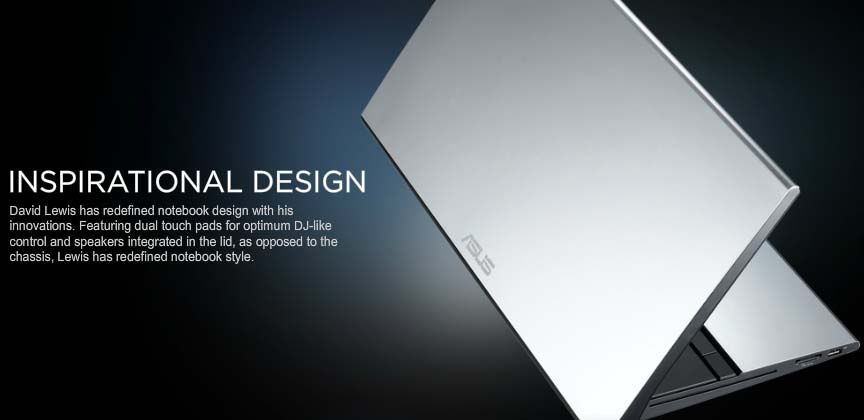 Notebook Design Remastered
The ASUS NX90 notebook was co-designed with master designer David Lewis, the owner of Copenhagen-based drawing office David Lewis Designers that is known the world over as the main force behind the trademark Bang & Olufsen look. Lewis is the recipient of numerous international design awards, and was awarded the title of Royal Designer for Industry in London in 1995.


A Revolution in Style
The NX90 is destined to become the centerpiece of your living room, a beacon of style and beauty that will add a touch of class to any décor. It is the world's first notebook to feature two touch pads, positioned at either side of the elegant keyboard, which serve as an intuitive and enjoyable way for you to manage and play your multimedia content. The NX90 is also the first notebook in the world to sport speakers that are integrated into the lid as opposed to the main chassis, as well as a flawless polished aluminum finish realized with the help of aluminum craftsmen.
Dual touch pads with Rotation Desktop expand multimedia interaction and comfort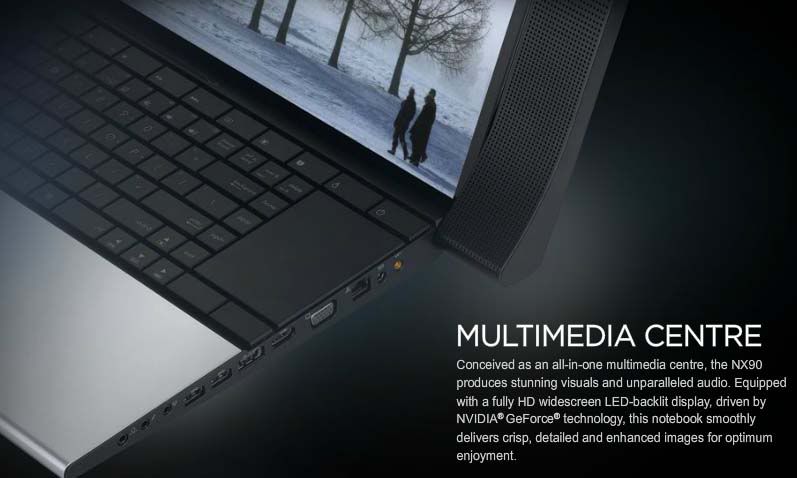 Stunning Visuals
Conceived as an all-in-one multimedia center, the NX90 is equipped with a full high definition 1080p (1920 x 1080) 18.4-inch widescreen LED-backlit display driven by a powerful NVIDIA® GeForce® GT 540M graphics processing unit — delivering crisp, detailed and richly-colored images at silky smooth frame rates. It also houses a slot-in Blu-ray combo or DVD Super Multi drive for high quality movie entertainment on the move.


Twice the control
Simple but brilliant, dual touch pads and ASUS Rotary Desktop software on NX90 notebooks create completely new interaction with PC. Realizing there's no need to limit input to one touch pad, ASUS designers added a second for greater comfort. This is the first notebook PC catering to left-handed users, but that's just for starters. Rotary Desktop software takes advantage of the dual pad design with DJ-like control over multimedia content like videos, songs and photos. Precision multi-gesture detection enables an intuitive and natural interface for double the fun, so get your hands on the action and be more involved than ever.
Equipped with 2nd Gen Intel® Core™ processor and ultra-fast USB 3.0 connectivity



Sensational Speed
The NX90 features top-of-the-line components and technologies, providing the smoothest computing experience possible. Powered by the 2nd Gen Intel® Core™ i7 processor and equipped with lightning-fast USB 3.0 and Bluetooth 3.0 connectivity, the NX90 is guaranteed to deliver extreme speed both in terms of computing and data transfers.



Related Entries / References :
ASUS Notebook NX90SN – ASUS Official Site
ASUS Notebook NX90SN – Technical Specifications by Jcyberinux
ASUS Notebook NX90SN – Gallery Pictures by Jcyberinux