ASUS Essentio CM5575 Desktop – Not Your Typical Personal Entertainment Center
by: Revengsky Joseph D. Reyes (a.k.a rjdreyes)
Last month, I joined the contest to win the Asus Essentio CM5575 Desktop. But unfortunately, I didn't won by competing numerous vote on slogan contest / like my post. I'm in depth sad, because it's my dream personal computer proudly by Asus.
Hoping win the contest, and frustrated, I think posting my dream Asus Essentio CM5575 Desktop here might be a good idea to put myself at ease. (Well, just a little – still think about the Desktop).
Anyways, I congratulate the winner of the Asus Essentio CM5575, and hoping another contest to come. 🙂
Speaking about  the desktop, why I'm still looking forward to have it. I'll give you the reasons why, the mouth watering of the Asus Essentio CM5575 Specifications.


Available specs:
Model
Essentio CM5575
OS
Win 7 Basic 64bit
CPU
Intel® Core i3 540
Chipset
Intel® H55 Express
Memory
2 GB DDR3 Memory
HD
500GB SATAII
ODD
SuperMulti X16
VGA
ASUS HD5770 1G
Expansion Slots
2 x PCI
1 x PCI-e x 1
1 x PCI-e x 16
LCD
20″ wide LCD (MS202D)
Card Reader
16 in 1
Audio
8-CH
Front Panel
1 x 16-in-1 Card Reader
1 x Headphone
1 x Microphone
2 x USB 2.0
Rear Panel
1 x PS/2
1 x RJ45 LAN
6 x USB 2.0
1 x 8 channel Audio I/O
1 x HDMI
1 x DVI
1 x VGA
1 x S/PDIF
Power supply
300W
LAN
Gb LAN
Accessories
1 x Keyboard (USB)
1 x Mouse (USB)
1 x Manual
1 x Power Cord
Software
PC-cillin 2010 30days
Office 2010 starter
nero 9 Essentials
Microsoft Pack
Adobe
Windows Live
ASUS Utility
ASUS AI Manager
ASUS My Logo2
ASUS Update
ASUS Q-fan
[email protected]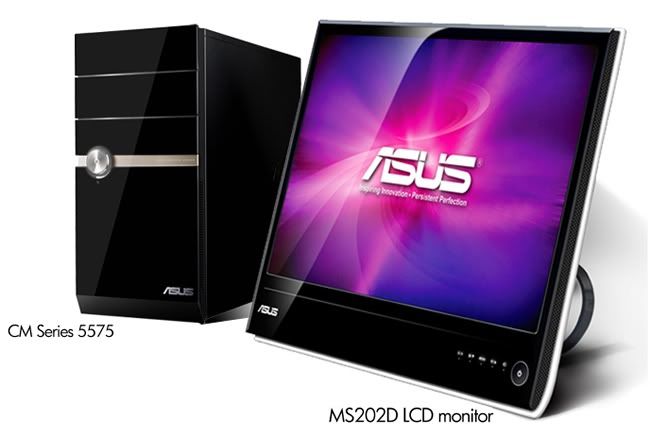 As an inspiring user of ASUS Technology, the Asus Essentio CM5575 has the core that rock your world. As an hardcore user of ASUS, the sleek, ergonomic, simple design with the excellence powered on it definitely must have. So for me, i really really really would like to have this one.
As i see the screenshot on Asus Essentio CM5575 with 20″ wide LCD MS202D; first, it has an Intel® Core i3 540 (4mb cache with 4 threads and 2 cores that hit the spot) secondly, it has the package of both gaming and entertainment, because of the ASUS HD5770 1G (1gb memory capacity with gddr5 make this on top of everything), and with the 20″ wide LCD MS202D, what more to ask for.
Related Links / Articles / Entries / References / Sources :
Asus Essentio CM5575 – Asus Official Website
Asus Essentio CM5575 Contest – TipidPC